Events
This is being updated as we hear about Events and Entertainment that other people & organisations put on during the Cruise In.
 Show and Shine | Saturday October 7th 2017
The "main event" will be held on Saturday when we close off the street and have an awesome display of cars and bikes on show.  Entrants can park from 7am onwards. We are open to the public at 10am.  Make sure you register your car or bike early!
Wander the street and check out the live bands, stalls, rock and roll dancing displays, bouncy castle and food and drink aplenty.  Prize giving will also be on Saturday – please ensure you stick around in case you are in for a trophy!
The Great Duck Race
Te Aroha Primary School PTA proudly presents The Great Duck Race.
Race start approx 12:30pm (before CruiseIn prizegiving).
$2 per race number.
Rubber ducks race down the causeway near the fire station and past the finish line next to Herries Park.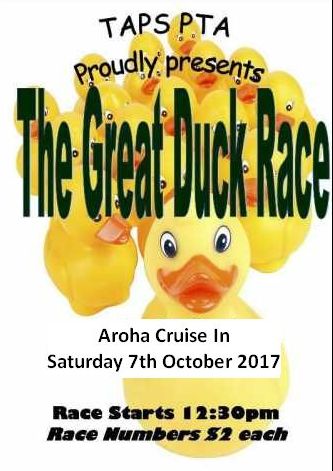 ---
 Sunday Poker Run | Sunday October 8th 2017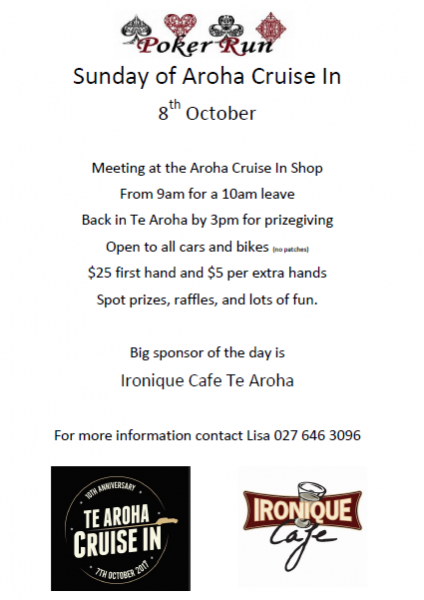 Once again there will be a Poker Run at the Aroha Cruise In on Sunday October 8th.  What a great way to finish the Cruise In weekend.   $25 a hand. You can book and pay for your spot on the Poker run through our shop on this website or pay on the day.
Meet at the Cruise In Shop on Sunday from 9am and leave at 10am.
Poker run prizegiving will follow run – location to be advised. (Please note, Prizegiving for Show and Shine entrants is on Saturday)
Aroha Cruise In merchandise will be for sale that morning so make sure you deck yourselves out before you leave!
---
Entertainment
There is much happening in Te Aroha over the weekend of the Cruise In – the locals are putting it all on for our visitors and locals alike.
---
Te Aroha RSA are holding a Rock and Roll night on the Friday before the Aroha Cruise In – see details in the poster below or call the RSA for more information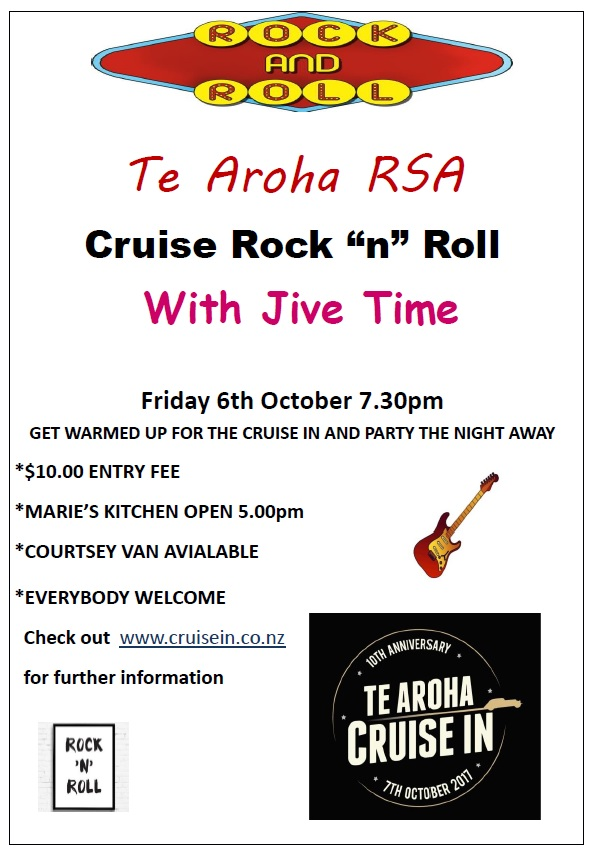 Te Aroha RSA
67 Rewi St, Te Aroha
Cruzing Rock'N'Roll Night
Fri 6th October 7:30pm. $10. Restaurant open from 5pm.
---
Te Aroha Miniature and model Railway
37 Burgess Street, Te Aroha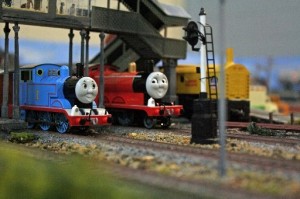 Open from 10am – 3pm Saturday and Sunday.  Entry is by donation which goes towards the running of the Railway.  Both the big and little kids will love this!
---
Historic Creations
Adrian Worsley
62 Rewi Street, Te Aroha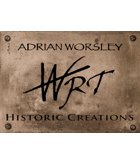 At the "Creative End of Rustic Art" and located in his workshop and gallery in Te Aroha is Adrian Worsley.  Adrian designs and constructs unique one-off sculptures.  His materials are old tools and machinery – recycling anything that people no longer have a need or use for.  He takes them and makes them into works of art. Adrian was the creator (and donor) of our "Best Shop Trophy" for the Aroha Cruise In weekend which will see many a business try extra hard to earn the right to keep the trophy at their business for 12 months!
Although Adrian does not have many scultpures in his gallery at the moment (they are all in their new homes or on display in other towns)  – you can still have a wander through his yard and workshop to see where all the creations start!
Opening hours over the Cruise In weekend: Saturday from 10am – 4pm
Check out his websiste at: www.adrian-worsley.com
---