The Old Forge is Te Aroha's newest café, restaurant and function centre. Experience fresh and authentic "paddock to plate" cuisine prepared in our state of the art kitchen, at our rebuilt with recycled timber and materials reclaimed from the historic antique trade store that was once located here.

Villa 9 Health and Coffee Shop

Espresso coffee and made with organic milk, cabinet food and clipboard menu made to order. Catering for all dietary requirements. Comprehensive range of health foods. Fresh organic vegetables and healthy smoothies.

Attractions in Te Aroha
A must see attraction is  Adrian Worsley's Gallery

.

A very talented local artist who creates sculptures from scrap metal. Some are displayed throughout the Te Aroha township. One of the most recent and impressive sculptures, is the Bull see below. Adrian Worsley's Gallery can be found on Rewi Street Te Aroha.
(Private Bookings available only)
Te Aroha Mineral Spas
Te Aroha isn't called a Spa Town for nothing, relax at the Te Aroha Mineral Spas and soak in the natural mineral water which has been famous for more than 100 years! Found above the Te Aroha Domain off Boundary Street.
Check out the quick video of our town:
Adventure Te Aroha
It might not be the middle of summer but don't let that stop you going on a Kayak Adventure with Kelvin Forsman!
Hauraki Rail Trail
If you enjoy cycling then this is for you. Cycle along the leisurely grade 1 (easy) Hauraki Plains where the old railway tracks used to be. Enjoy the farmland, plus outstanding views of our beautiful Mount Te Aroha, and the bush clad Kaimai Ranges.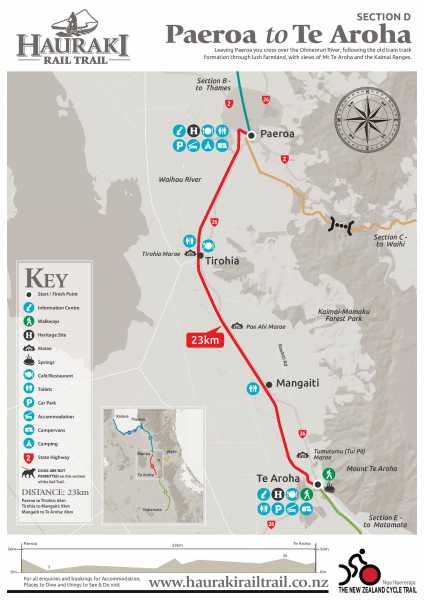 Walking tracks
A variety of walking tracks up and around Mount Te Aroha offer stunning views and give access to the Kaimai Mamaku Conservation Park. Many are based around and start from the Te Aroha Domain. For more information check out Te Aroha i-Site.